Plastic faucet X8411
Product Detail
Product Tags
Quick Details
Installation Type:Deck Mounted
Valve Core Material:ABS
Name:plastic ABS slow open faucet
Color:white
Usage:Household
Size:1/2''-3/4''
Type:open close
Material:ABS or PP
Test:100% Leakage Testing
Medium:Normal Temperature Liquid
Function:water
Use for:plastic pipe
Application: Irrigation of gardens, agriculture, gardens, industry, etc.
parameter
| | |
| --- | --- |
|  Body: | ABS or PP |
|  Handle: | ABS or PP |
|  Cartridge: | ABS or PP |
| Size: | 1/2"   3/4" |
|  End connector: |  Thread |
|  Handle Type: | One-way |
|  Standards: |  ANSI   BS   DIN   JIS |
|  Characteristic: |  Light   Environmental   Durable |
|  Media: | water   corrosive liquid |
|  Use: | Agriculture irrigation   Garden   Construction   Petroleum chemical industry ETC. |
process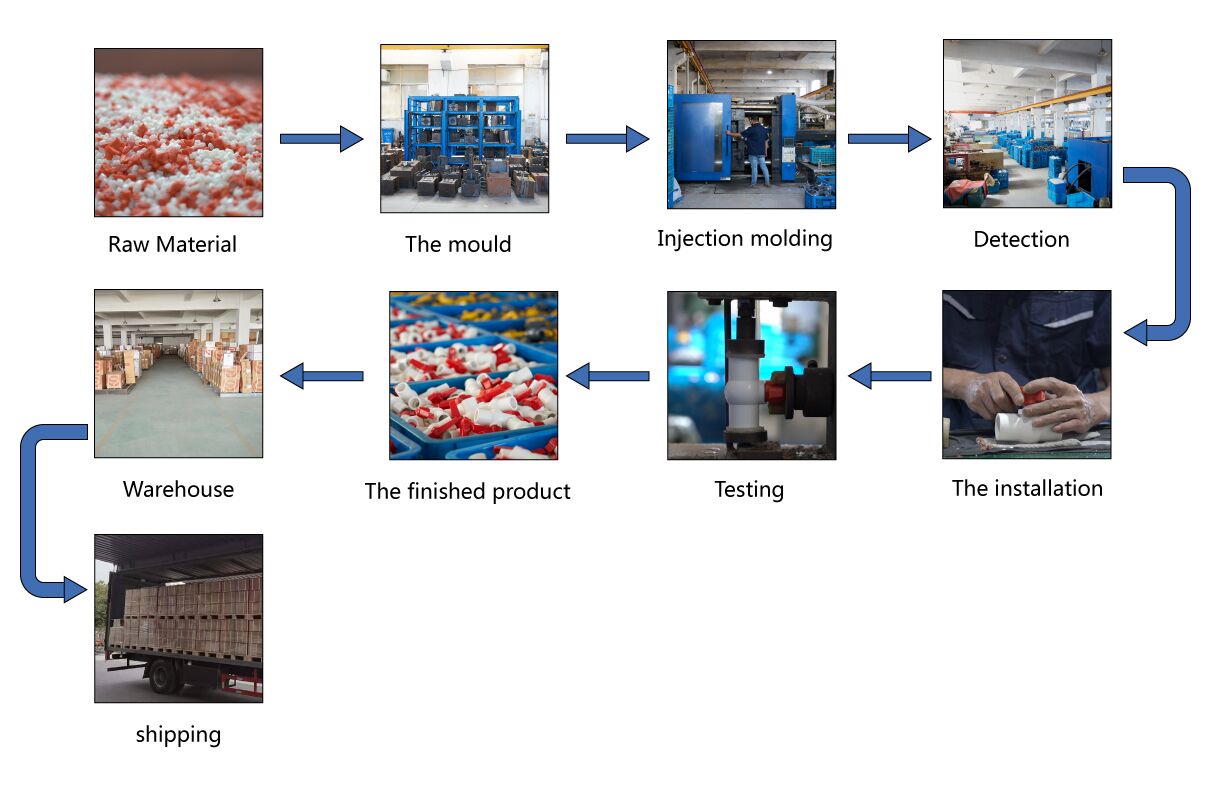 Raw Material, The mould, Injection molding, Detection, The installation, Testing, The finished product, Warehouse, shipping.
advantage
Advantages of plastic faucets produced by Xushi Plastic Industry:
1. High temperature resistant and strong
Plastic faucet has the excellent chemical properties and insulation properties of plastic. The plastic faucet has good high temperature resistance and is not easy to scratch. Especially the plastic faucets on the market are mostly made of ABS plastic. ABS plastic is a new material that is non-toxic and tasteless, has excellent chemical properties and electrical insulation properties. It concentrates the various properties of ps, san, and bs materials. , It has excellent mechanical properties such as toughness, hardness and rigidity.

2. environmental protection and health
Plastic faucet has excellent impact resistance performance, good external dimensional stability, no deformation, light weight, no dirt, no rust, tasteless, cheap, and simple construction. It is an environmentally friendly and healthy faucet product.
3. good corrosion resistance
Plastic faucet has the flexibility of plastic at the same time, the flexibility is very good, and the plastic faucet has low water absorption, good corrosion resistance and simple installation.
4. Diversified styles
The improved structure of the plastic faucet is mainly the valve body and switch made of the same color. At least one of the valve body or the switch has a decorative block structure. The color of the decorative ring and the decorative block is different from that of the valve body and the switch. The decorative structure makes the new plastic faucet both practical and beautiful, greatly enriching the style of the faucet, and meeting the individual needs of modern people.According to the styles of plastic faucets, there are:white faucet,grey faucet,red faucet, blue bibcock,yellow bibcock;Plastic faucets are classified according to size:1/2 inch faucet,20mm faucet,3/4 inch bibcock,25mm bibcock,16mm bibcock,1 inch bibcock;Plastic faucets are classified according to their functions:kitchen faucet,bathroom faucet,irrigation faucet,agriculture bibcock,industrial bibcock,garden bibcock,tank bibcock,toliet bibcock,shower bibcock,high pressure bibcock,connector bibcock,transparent faucet.
---
Previous:
Straight Bibcock (Rhombus Handle) X8211
---