MF Ball Valve X9011
Product Detail
Product Tags
Material:Plastic
Temperature of Media:Normal Temperature
Pressure:Medium Pressure, 0.8 Mpa
Power:manual
Media:Water
Port Size:3/4" 1" 1-1/4" 1-1/2" 2"
Structure:BALL
Standard or Nonstandard:Standard
Name:plastic male female valve
Body material:PVC
Color:Grey
Standard:ANSI BSPT JIS DN
Connection:Female Thread and Male Thread
Applicable medium:Water System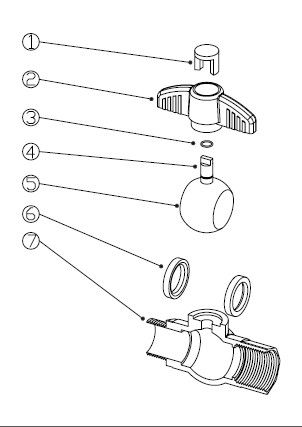 parameter
| | | | |
| --- | --- | --- | --- |
| ITEM | COMPONENT | MMATERIAL | QUANTITY |
| 1 | CAP | ABS | 1 |
| 2 | HANDLE | ABS | 1 |
| 3 | O-RING | EPDM·NBR·FPM | 1 |
| 4 | STEM | U-PVC | 1 |
| 5 | BALL | U-PVC | 1 |
| 6 | SEAT SEAL | P.T.F.E | 2 |
| 7 | BODY | U-PVC | 1 |
process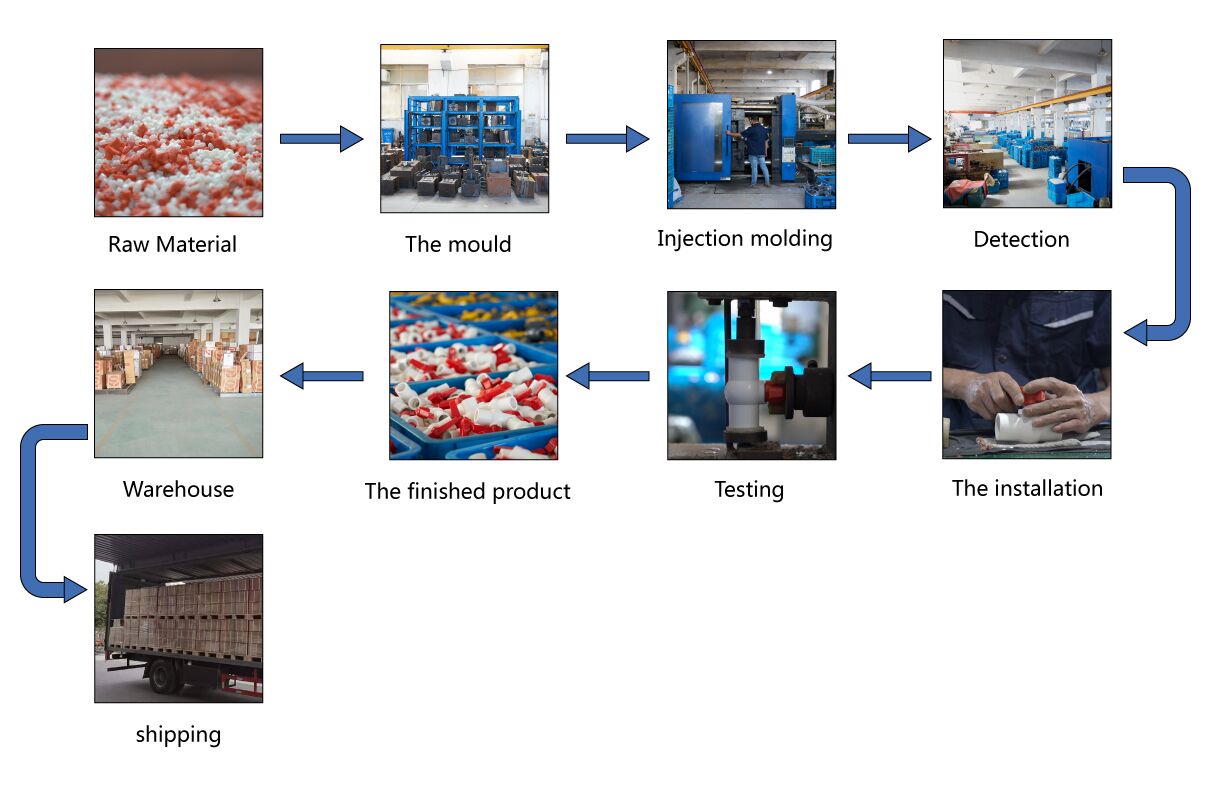 Raw Material, The mould, Injection molding, Detection, The installation, Testing, The finished product, Warehouse, shipping.
Advantage
1. The thrust bearing reduces the friction torque of the stem, which can make the stem operate smoothly and flexiblyfor a long time.
2, anti-static function: spring is arranged between the ball, the valve stem and the valve body, which can export the static electricity generated in the process of switching.
3, because the PTFE and other materials have good self-lubrication, and the friction loss of the ball is small, so the service life of the ball valve is long.
4, fluid resistance is small: ball valve is one of the least fluid resistance in all valve classification, even if it is reduced diameter pneumatic ball valve, its fluid resistance is quite small.
5. Stem sealing is reliable: because the stem is only rotating and does not do lifting movement, the packing seal of the stem is not easy to destroy, and the sealing ability increases with the increase of the medium pressure.
6, the valve seat sealing performance is good: the sealing ring made of polytetrafluoroethylene and other elastic materials, the structure is easy to seal, and the valve sealing capacity of the ball valve increases with the increase of the medium pressure.
7, fluid resistance is small, full diameter ball valve basically no flow resistance.
8, simple structure, small volume, light weight.
9, tight and reliable. It has two sealing surface, and the sealing surface material of the ball valve is widely used in a variety of plastics, good tightness, and can achieve complete sealing. It has also been widely used in vacuum systems.
10, easy to operate, open and close quickly, from full open to full close as long as the rotation of 90°, easy to remote control.
---
Previous:
Compact Ball Valve X9002
---